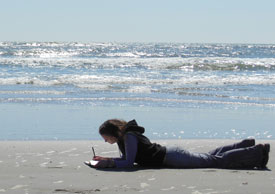 Here's a vacation-inspired writing prompt for you to try from one of the Atlantic City Shore Thing Writing Getaways. Consider it an Autumn gift! It includes options for writing fiction, nonfiction and poetry, and of course one of my "Challenges for the Delusional." Have fun and be daring. You won't break anything, except, perhaps a mild case of writer's block.
"For a while we pondered whether to take a vacation or get a divorce. We decided that a trip to Bermuda is over in two weeks, but a divorce is something you always have."
~ Woody Allen
"No man needs a vacation so much as the man who has just had one."
~ Elbert Hubbard
"The prospect of a long day at the beach makes me panic. There is no harder work I can think of than taking myself off to somewhere pleasant, where I am forced to stay for hours and 'have fun.'"
~ Phillip Lopate

Fiction Prompt
Two characters are on their way to Atlantic City. Write a dialogue-driven story in which one has something that the other wants.

Nonfiction/Memoir Prompt
Write about a vacation that went worse (Or better) than expected. Discover something you didn't know you knew.

Poetry Prompt
Draw on a vacation or a journey to write a poem about Mercy.

Requirements
Begin your first draft with the word "Although."
Drop a brand name or two into your writing.
Tell a secret, tell a lie and never tell anyone which is which.
Surprise yourself!
Challenge for the Delusional
Use images, sounds and smells associated with the beach or boardwalk.

-+-+-
If you like this writing prompt, take a look at Challenges for the Delusional which has more of Peter's unique prompts, or consider joining us at the Winter Poetry & Prose Getaway in January.