Murphy Writing of Stockton University Presents



This entry is part of Getaway Reads, an e-mail series curated by Marissa Luca that features the writing of the Winter Poetry & Prose Getaway faculty.
Watching The Crucible in the Time of Trump at Theatr Newydd, Cardiff

by Peter E. Murphy
First of all, everyone is terrified.
Is she going to fly again? I hear she flies.
The word "lies" lies inside of flies, inside of families.
A clink of good women are shackled together,
away from their families because of lies.
No president in history has been treated more unfairly.
No president in history believed himself so wise.
I said, I see the devil, and they believe me.
I say, even the most sensible sometimes believe a lie.
The extremists of opposing beliefs lie closer
to each other than they do to their own allies.
When he called the investigation a witch-hunt,
the congressman from Salem said that was a lie.
Apocryphal, I suspect, that the Black Panthers
and the KKK raged together against race unity rallies.
But the true believer is a murderer, not a martyr,
when he explodes himself in his desire to terrorize.
They were actors playing their rolls, until at the curtain call,
they broke the fourth wall for the Manchester dead and hospitalized.
The words "casual" and "ties" survive in casualties.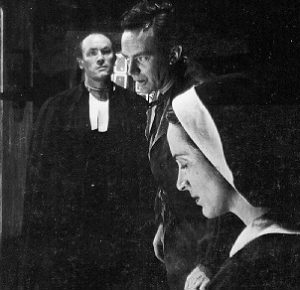 © Peter E. Murphy. Published in What Rough Beast on IndolentBooks.com on July 3, 2017.
Mean Time
by Peter E. Murphy
She asked for a pillow.
xxxxxI brought her a fork.
She asked for a cigarette.
xxxxxI brought her a sock.
She asked for a newspaper.
xxxxxI brought her a tea set.
Is this what you mean?
xxxxxI said.
Is this what you mean?
xxxxxI poured milk in the toaster.
xxxxxI spread jam on my head.
Bring me everything, she said, pointing
the fork at me, her darling boy.
xxxxxI hopped from couch to chair
in the living room.
xxxxxI flew out the window
as if I were a bird.
xxxxxI landed on earth, which stunk
of flowers, not dirt.
Forgive me—
the sea breaching the walls
of our house, the chimney crumbling, the bed
clothes on fire—
it was the only way
xxxxxI knew how to love her.
© Peter E. Murphy. Published in Rattle in Fall 2016.
+ + + + + + + + + +
The Winter Poetry & Prose Getaway and Murphy Writing are programs of Stockton University.
+ + + + + + + + + +
Want to study with Peter E. Murphy? Peter will be facilitating the poetry workshops at the 2018 Winter Poetry & Prose Getaway.
+ + + + + + + + + +
Peter E. Murphy has led hundreds of workshops for writers and teachers. He was born in Wales and grew up in New York City where he operated heavy equipment, managed a nightclub and drove a cab. He is the author of seven books and chapbooks including Stubborn Child, a finalist for the Paterson Poetry Prize. His recent essays and poems appear in The Common, Diode, Gravel, Guernica, Hayden's Ferry Review, The Lindenwood Review, The New Welsh Reader, Rattle, Word Riot and elsewhere. He has received fellowships and awards for writing and teaching from The Atlantic Center for the Arts, The Folger Shakespeare Library, The National Endowment for the Humanities, The New Jersey State Council on the Arts, Yaddo and the White House Commission on Presidential Scholars. Peter is the founder of Murphy Writing of Stockton University which includes the Winter Poetry & Prose Getaway and other programs for poets, writers and teachers. Enjoy a brief interview with Peter and read some of his work at peteremurphy.com.
+ + + + + + + + + +
Our Participants Say It Best
"I've been attending the Winter Getaway since 1999, and every time I attend I am pleasantly surprised at where the experience leads me. Amazing community, amazing teachers and phenomenal exposure to other writing and music!"
~ Jin, Jackson, NJ
Our Philosophy
Escape the distractions of your busy life. Advance your craft and energize your writing with a challenging and supportive Writing Getaway. Join us at one of our upcoming writing retreats and take advantage of plentiful writing time, insightful feedback, good meals and good company. Get Away to Write.
+ + + + + + + + + +