Murphy Writing of Stockton University Presents



This entry is part of Getaway Reads, an e-mail series curated by Kendal Lambert that features the writing of the Winter Poetry & Prose Getaway faculty.
Extract from Chapter 4,
Spring of Hope
by Michelle Cameron
April 28, 1796. Piedmont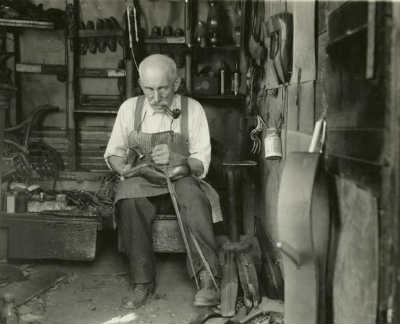 The company was marched into the cobbler's shop and the cobbler ordered, at musket point, to fashion them all new footwear. Every soldier in Daniel's company knew General Bonaparte's motto, "the war must feed the war." The general moved his men too quickly to rely on the supply line, so troops grew accustomed to foraging for food wherever they were. If that meant stealing chickens and eggs from a villager's coop or taking possession of a wagon-load of freshly picked produce bound for market, so be it.
Daniel had grown inured to the protests of the villagers forced to surrender their provisions for no pay. Having lived too many months on an empty stomach, he no longer had qualms about appropriating food from the Italians. Survival now trumped every other feeling. But taking the boots felt different.
The little boy's eyes would always haunt him. As the cobbler took the last scraps of his precious leather for their boots, his little boy, who couldn't have been more than eight or nine, sat on a bench, a small miniature of his father's, and watched solemnly. When Daniel took his turn on the cobbler's stool, he handed the boy a peach, still warm from the spring sunshine, one of a pair that he'd plucked from an orchard just outside the city. The boy let the perfect piece of fruit drop to the floor with a thud.
"I don't want it," he muttered, hate glowing in his wide black eyes, the kind of hate that a little boy should not yet know.
Daniel's Italian was better than most of the other men in his company. "It is bella. You take it. A gift from me."
"I don't want it. We don't want you." The boy manfully swallowed back tears before flinging himself from his stool and scrambling out the back door. Daniel watched as he ran straight to a woman, throwing himself against her apron, racked by sobs. She surrounded him with comforting arms, casting a dark glare at the dim interior of the shop.
"I apologize for making your boy cry," Daniel told the cobbler, shifting uncomfortably.
The shoemaker, busy hammering rivets to fasten the sole of the boot to the soft leather upper, just shrugged. He kept his eyes lowered. Daniel wondered if he concealed a glimmer of his own hate under hooded lids.
Finally the cobbler spoke. "He is young. He doesn't understand that you won't kill us all if we give you what you demand. His momma cried when I was ordered to make all the boots, knowing it would mean a hungry summer for us all. He didn't like seeing his momma cry."
Daniel didn't know what to say, so he sat in silence. The cobbler finished the second boot. "All done, soldato."
Daniel looked toward his officer, whose back was turned as he spoke to some of the other men. He quickly slipped his hand into his pocket and brought out a few paoli. "For the boots, Signore," Daniel said.
The Italian shook his head. "I cannot…"
"For the boy, then," Daniel interrupted, anxious that he take and hide the silver before the officer turned around.
The cobbler seemed to understand. He quickly palmed the coins and slid them in a leather pouch that held some of his tools. "It is kind. Grazie."
But even so, every time he laced up the boots, Daniel remembered the hatred buried deep in the boy's black eyes.
© Michelle Cameron. Extract from Chapter 4, Spring of Hope, represented by Heather Schroder of Compass Talent.
+ + + + + + + + + +
The Winter Poetry & Prose Getaway and Murphy Writing are programs of Stockton University.
+ + + + + + + + + +
Michelle Cameron's debut historical novel, The Fruit of Her Hands: the story of Shira of Ashkenaz, was published by Simon & Schuster's Pocket Books in September 2009. Publisher's Weekly praised the novel's "powerful immediacy" and Library Journal its "rich details." Michelle's novel in verse, In the Shadow of the Globe, was published by Lit Pot Press in late 2003. It received excellent critical reviews, was named the Shakespeare Theatre of New Jersey's 2003-4 Winter Book Selection, and was dramatically performed in several venues, including the Stella Adler School of the Arts and the Winter Poetry & Prose Getaway. Michelle is also Co-Director of The Writers Circle, which offers creative writing workshops for children and adults. Her website is michelle-cameron.com.
+ + + + + + + + + +
Want to study with Michelle Cameron? Michelle will be leading the Beginning Your Novel Workshop at the 2016 Winter Poetry & Prose Getaway.
+ + + + + + + + + +
Our Participants Say It Best
"I won't lie–I was nervous about attending the Winter Getaway. I had never previously attended ANY writer's conference or retreat, and friends who have attended comparable (though I use that term loosely) events offered warnings about the elitism and airs that tend to haunt them. I can't express how marvelous it was to find the Getaway completely devoid of such atmosphere. Never have I felt so welcomed by such a massive gathering of complete strangers. This is clearly the product of vision and hard work, and I sincerely appreciate the thoughtful design that has been implemented in crafting such a magical event."
~ Benjamin, West Hatfield, MA
Our Philosophy
Escape the distractions of your busy life. Advance your craft and energize your writing with a challenging and supportive Writing Getaway. Join us at one of our upcoming writing retreats and take advantage of plentiful writing time, insightful feedback, good meals and good company. Get Away to Write.
+ + + + + + + + + +