Has the Winter Poetry & Prose Getaway contributed to breakthroughs in your writing? Have you attended multiple times to regain that special sense of community?
We want to hear from you. What writing accomplishments are you proud of and how did the Getaway help you achieve them? Let us know by posting a review on our Facebook or Yelp pages.
Here are some Getaway Success Stories that our beloved participants have shared with us.
Getaway Success Stories
Mary Scherf
The first time I attended the Winter Getaway, I took the workshop "What Matters is Not What Happened: Advanced Memoir." I brought an excerpt from a memoir I'd been writing and revising off and on for several years. This class gave me the courage and the craft tools I needed to express the meaning of the events about which I wrote. Later that year, using what our workshop leader taught us, and with the encouragement of other writers I met at the Getaway, I wrote a personal essay drawn from the larger story and submitted it to Creative Nonfiction's InFact Books. My essay, "Becoming His Mother," will be included in the anthology Oh Baby, scheduled for publication in May 2015. This is the first time I have been published, and I have the Winter Getaway to thank for the impetus to put my work out into the world.
Kyle Laws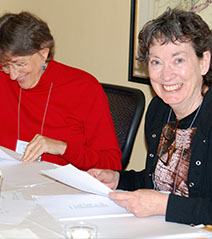 The Winter Poetry and Prose Getaway has become a hub for my writing activities even though I live in Colorado. It's no wonder since the first poem I wrote at a Getaway became the center for a broadsheet published by Alpha Beat Press; the memoir-based stories I wrote between poetry assignments were published in a chapbook, Storm Inside the Walls (little books press) in 2012; and the Getaway poetry manuscript classes I've taken have produced one full-length book, Wildwood (Lummox Press, 2014), and three chapbooks: Going into Exile (Abbey Chapbooks, 2012), George Sand's Haiti (co-winner of Poetry West's 2013 award) and My Visions Are As Real As Your Movies, Joan of Arc Says to Rudolph Valentino (Dancing Girl Press, 2013).
Kelly McQuain
Kelly was a Winter Getaway scholarship winner a couple years ago. A chapbook that includes some of the poems he worked on at the Getaway recently won the Bloom Books prize, selected by New England Review editor C. Dale Young. https://kellymcquain.wordpress.com/order-velvet-rodeo-poems/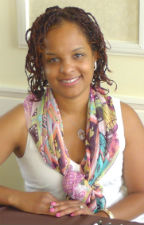 Shawn Jones
I would not be published if I had never attended the Winter Getaway. Most of the poems in Womb Rain were inspired by prompts Peter gave. A Hole to Breathe was inspired by a memoir workshop I took, and "a hole to breathe" was a phrase I used in a poem a few years ago in the Advanced Poetry Workshop at the Getaway. My instructor told me it would make a great title, so I took his advice.
Kim Mary Trotto
I had the pleasure of attending one of your Getaways. One prompt you gave us became my comedy short story, "Well Suited," which will be published on the Webzine Defenestration, a literary fiction site with a comedic bent. A prompt you sent in a newsletter turned into my horror short story, "The Gold Fish," which will be published by the science fiction Webzine Luna Station. Thanks so much for the prompts and the great session. I am so hoping to attend again in the future!
-+-+-+-
Getaway Gift Certificates

Getaway Gift Certificates make great presents and are available in any denomination. Why not tell the people who love you that this is what you want this year? Learn more