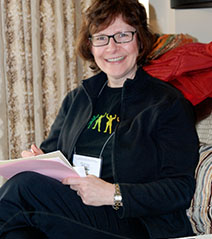 Four scholarships are being offered for first-time participants of the 22nd Annual Winter Poetry & Prose Getaway, January 16-19, 2015. Recipients may choose from writing workshops in poetry, fiction, nonfiction, memoir, screenwriting and more, including special advanced sessions with Stephen Dunn and Kim Addonizio. In addition, the conference also offers open mics, tutorials, talks, sunrise yoga, dancing at the Getaway Disco and writerly camaraderie.
We have two different categories of scholarships available:
 The Toni Brown Memorial Scholarship, sponsored by the Getaway faculty and staff, will offer places to two poets or writers age 31 and over. Deadline: Nov. 15, 2014.
The Jan-ai Scholarship will sponsor two poets or writers between the ages of 18 – 30. Deadline: Nov. 30, 2014.
Learn more about scholarship opportunities.
"This was possibly the best weekend I've had since my wedding. I learned more, wrote more and most importantly wrote *better* in two and a half days than I had at other retreats and conferences that were over a week long."
~ Carolyne, Pittsburgh, PA, Jan-ai Scholarship recipient
-+-+-
About the Winter Poetry & Prose Getaway
Escape the distractions of your busy life. Advance your craft and energize your writing at the Winter Getaway. Enjoy challenging and supportive sessions, insightful feedback and an encouraging community. Learn more
The Winter Poetry & Prose Getaway is presented by The Richard Stockton College of New Jersey and Murphy Writing.