Advanced Poetry Writing with Tony Hoagland
At the Winter Poetry & Prose Getaway
January 16-19, 2015
Galloway, NJ (Atlantic City area)
Advanced Poetry Workshop

The poetry writing workshops are at the heart of the Getaway. Experienced poets are invited to work with our Special Guests, Stephen Dunn and Tony Hoagland.
The Dunn/Hoagland sessions are part of the Advanced Poetry Workshop, which is comprised of three periods of craft discussion/writing prompts and three feedback sessions. If you choose to add on a workshop with Tony, you will work with him during one of the three feedback sessions.
Add-ons for Advanced Poetry Writing Participants
Advanced Poetry Writing with Stephen Dunn
Advanced Poetry Writing with Tony Hoagland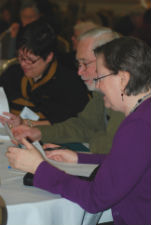 If you opt to work with one of our Special Guests during the workshop feedback sessions, you may bring a poem in progress (30 line maximum) or the day's assignment to be critiqued. Enrollment is on a first-come, first-served basis and is limited to one of these intensive sessions with each Special Guest. There is a $100 surcharge for each of these add-ons which is limited to 10 participants.
Your tuition also includes a one-on-one tutorial with one of our faculty who will give you a constructive critique on a poem in progress. You will have the chance to sign up for this session after you arrive at the Getaway.
Learn more about our Poetry Workshops.
"In the ten years I have been attending the Getaway, I have grown in both confidence and competence as a poet. This wouldn't have happened without encouragement to take risks coupled with support. Thank you."
~ Deborah, Egg Harbor City, NJ
Biography

Tony Hoagland's four collections of poems include What Narcissism Means to Me and Donkey Gospel. A book of essays on poetic craft and art, Real Sofistikashun, was also published by Graywolf Press. His work has won the Poetry Foundation's Mark Twain Award in 2005, the Jackson Poetry Prize, the O.B. Hardisson Prize and The James Laughlin Award. He has been a Guggenheim Fellow and an NEA fellow in Poetry. He is a Professor of Writing and Literature at the University of Houston, and also teaches at the Warren Wilson low residency MFA. In 2012, he started Five Powers of Poetry, a program for coaching high school teachers in the teaching of poetry in the classroom. You can read or listen to some of his poems here.