Poetry Manuscript Workshop
Writing Workshop in New Jersey
January 15-18, 2016
Led by Lois Marie Harrod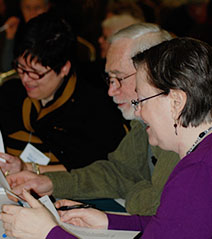 In this intensive (but low-stress and friendly) workshop, we will learn how to move a batch of poems into a well-crafted book-length manuscript. Working as each other's editors and collaborators, we will explore methods to order, group and title our poetry collections. We will consider what to include and what to exclude. We will discuss how and where to submit our "book" for publication. Be ready to submit 48-70 pages of poetry by Dec. 15 (or if registering after that date, submit within a week of registering). The workshop leader and participants will read each manuscript before the Getaway. There is a $150 surcharge for this workshop.
*Limited to just 5 participants.*
"This conference is a gift. It permits a writer to take risks without concern for impressing or competing. It gave me the space to imagine and experiment. This is a community that is generous and encouraging while also being honest. A great relief."
~ Amy, Poetry Workshop Participant
Biography

Lois Marie Harrod's thirteenth book, Fragments from the Biography of Nemesis, was published by WordTech in March 2013. She won the Tennessee Chapbook Prize 2012 (Poems & Plays) with her manuscript The Only Is. Her eleventh book, Brief Term, published by Black Buzzard Press (2011), features poems about teaching, and her chapbook, Cosmogony, won the 2010 Hazel Lipa Chapbook contest (Iowa State University). Over 500 of her poems have been published online and in print journals including American Poetry Review, Blueline, The MacGuffin, Salt, The Literary Review, Verse Daily and Zone 3. A Geraldine R. Dodge poet, former high school teacher and Princeton University Distinguished Secondary Teacher, she now teaches Creative Writing at The College of New Jersey. Read some of Lois's poems on her blog and website.