Poetry Workshop
Poetry workshops in New Jersey
January 12-15, 2018
Multiple sections led by facilitator Peter E. Murphy with Barbara Daniels, Luray Gross and Paul-Victor Winters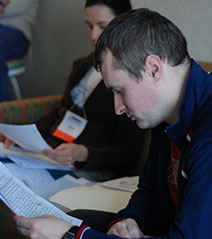 This class is designed for poets who have limited workshop experience and writers new to the genre. Using a mix of discussion, writing exercises and feedback, you will gain a firm grounding in the fundamentals of poetry writing and be inspired. During the workshop, you will write at least three new poems. How it works…
*Limited to just 10 participants per section.* 
"For a first-timer, it was an extraordinary experience. The workshops were unbelievably helpful and the entire atmosphere of Seaview was very conducive to writing. I definitely will attend again!"
~ Tyler, Poetry Participant, Chalfont, PA
How It Works
There are four main components to this poetry workshop:
1. Round-table discussion of a carefully chosen selection of poems: We start every writing session by reading and discussing a packet of poems. Seeing what other poets have done will broaden your understanding of poetry.
2. Prompt and writing time: You will receive an imaginative assignment and have time to write. One of our experienced poetry faculty members will be available to help you get started.
3. Supportive group feedback session: You will share your new poem and receive helpful feedback identifying your poem's virtues, strengths and weaknesses. You will learn more about the essentials including:
How to recognize and shed clichés.
How to get the most out of nouns and verbs.
How to improve your poem, taking it to the next level.
4. One-on-one Tutorial: This optional twenty minute session will give personal attention to a poem you wrote prior to the workshop. Your tutor will offer suggestions for revising your poem into a more mature literary work. You will be able to apply what you learn here to strengthen your other poems. Your tuition includes one of these tutorials. If you would like to add-on an additional tutorial, you may do so when you register.
By the end of this three-day workshop, you will be a more knowledgeable and skilled writer. You will leave with at least three new poems, feeling energized with exciting new techniques to get your vision onto the page.
"It was my first getaway and won't be my last. Everyone was supportive and helpful."
~ Bob, Poetry Participant, Millville, NJ
Biographies
See our poetry faculty page for bios.
Other Poetry Workshops
Tutorials and Add-ons