Advanced Creative Nonfiction Workshop
Writing workshop in New Jersey
January 15-18, 2016
Led by Thomas Peele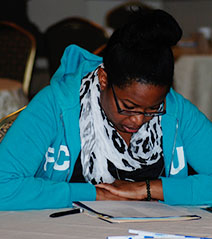 This generative class is designed for those who have previous workshop experience and have already mastered the fundamentals of creative nonfiction. We will focus on how to turn facts into truth that will leap from the page and engage the reader. In this workshop we will examine voice, the architecture of prose, shaping a narrative, time management within a story and the objective correlative. We will work from exercises, discussions and a long writing session on Saturday followed by supportive feedback and revisions. Be ready to submit 2-3 pages of your work in progress by Dec. 15 (or if registering after that date, submit within a week or registering). This is not for critique, but to give the workshop leader a sense of the project you're working on. After you register you will receive a suggested reading list which will help you benefit more from the workshop.
*Limited to just 10 participants.*
"We want to thank Tom Peele for his help with our book and let him know about our success. Not in a Tuscan Villa has made the Amazon Bestseller list several times for Travel Writing and has gotten great reviews, including one from Rick Mellerup in The Sandpaper where he called it one of the best things he's read in his career as a journalist. Thanks again."
~ Nancy, Advanced Creative Nonfiction Participant
Biography

Thomas Peele is an investigative reporter and author. He has won more than 50 journalism awards during a career on both coasts and also teaches journalism and writing at University of California, Berkeley and University of San Francisco. His first book, Killing the Messenger, an examination of Black Muslim cults and the 2007 murder of California journalist Chauncey Bailey, was published by the Crown Books division of Random House in 2012. One reviewer called it "a masterpiece of contemporary historical narrative." Peele's essay about San Francisco chef Dennis Leary, "The Final Redoubt," appeared in the book The Cassoluet Saved Our Marriage (Roost Books, 2013) and was a preliminary selection for Holly Hughes's Best Food Writing 2013. In 2006, his essay on the collapse of the Knight Ridder newspaper company, "Oligarchies I Have Known," was published in Controlled Burn and won the Association of Writers and Writing Programs' Intro Journals Award. His work has also appeared in Columbia Journalism Review, Newsday, Huffington Post and San Francisco Bay Guardian. Peele holds an MFA in writing from the University of San Francisco and lives in Oakland, California with his wife and twin daughters. You can read an excerpt of Killing The Messenger on his website www.thomaspeele.com. Read an excerpt of his writing.