Continuing Your Novel Workshop
Last year's information below. 2018 registration will open 8/15/17. Sign up for our email list.
Writing workshop in New Jersey
January 13-16, 2017
Led by Michelle Cameron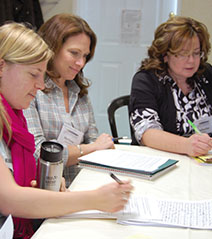 Best-selling author John Irving described his method for writing compelling novels as: "You've got to get obsessed and stay obsessed." This workshop, designed for those who have already begun writing their novels, will give you the inspiration and guidance to move forward with purpose and get obsessed. The workshop will include "off the page exercises" in characterization, story structure, point of view, planning and more–based on what individual participants need. The workshop leader and other participants will offer feedback on your in-class writing in a constructive, supportive environment that will help you move toward a completed first draft.
To get the most from this workshop, you should:
be working on a book-length work of fiction
have already written at least 25 pages
Be ready to submit 5 pages (no more than 1,700 words, double-spaced with 1″ margins and a 12 point font) of your novel and a 1 page synopsis by Dec. 20. If you register after this date, no problem–just submit your work within a week of registering. The workshop leader and participants will read each submission before the Getaway.
*Limited to just 10 participants.*

"Joyce McDonald is a wonderful workshop leader. She provided an encouraging, non-threatening environment for our enthusiastic group of writers from very different backgrounds. Her clear guidance about construction of plot, scene and dialogue was very helpful."
~ Karen, Highland Park, NJ
Biography

Joyce McDonald is the author of eight books, among them Swallowing Stones, an ALA Top Ten Best Book for Young Adults, and Shades of Simon Gray, an Edgar Allan Poe Award nominee. Her latest novel is Devil on My Heels (Delacorte). Her books have been nominated for numerous state awards and are on several state reading lists. She has taught literature and creative writing at Drew University and East Stroudsburg University, and was on the faculty of Spalding University's brief-residency MFA in Writing Program for several years. Learn more about Joyce and her work from her website joycemcdonald.net.