Continuing Your Novel Workshop
Writing workshop in New Jersey
January 15-18, 2016
Led by Roberta Clipper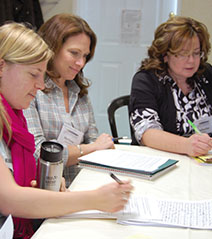 Novel writing is like a marathon–you have to be in it for the long haul. This class will benefit you most if you have already started writing your book and crave inspiration and guidance to move forward with purpose. The workshop will include "off the page exercises" to help solidify your work in character, plot, point of view, getting mired in the middle, planting the seeds for the end and more. We will critique your in-class writing in a constructive, supportive environment that will help you keep moving towards the finish line: a completed first draft!
To get the most from this workshop, you should:
be working on a book-length work of fiction
have already written at least 25 pages
Be ready to submit 5 pages of your novel and a 1 page synopsis by Dec. 20. If you register after this date, no problem–just submit your work within a week of registering. The workshop leader and participants will read each submission before the Getaway.
*Limited to just 10 participants.*
"What a great opportunity this is to escape into the world of writing for a long weekend, to work with award-winning poets and writers, to meet and network with other fellow writers and to just have a ripping good time. Kudos to Peter, Stockton and everyone involved for another excellent conference!"
~ Bruce, Cherry Hill, NJ
Biography

Roberta Clipper has published The Bride Wore Red (Picador, 1997) and Fifty-Fifty (Silicon Press, 2003) under the name Robbie Clipper Sethi, as well as poems and short stories in The Atlantic Monthly, Mademoiselle, the Philadelphia Inquirer and a number of literary magazines and anthologies. She has won fellowships from the National Endowment for the Arts and the New Jersey State Council on the Arts (twice). As Roberta Clipper she has published short stories and poetry in Local Knowledge (www.localknowledgemag.com) and Sleet (www.sleetmagazine.com). She teaches poetry, fiction, expository writing and literature at Rider University in Lawrenceville, NJ and on a Fulbright-Nehru Fellowship spent a "monsoon semester" (August-December) teaching creative writing at the International Institute of Information Technology in Hyderabad, India. To read some of her work, visit robbieclippersethi.com.