Continuing Your Novel Workshop
Writing workshop in New Jersey
January 15-18, 2016
Led by Michelle Cameron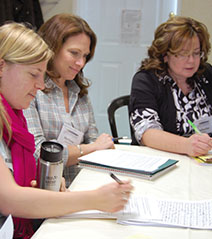 Novel writing is like a marathon–you have to be in it for the long haul. This class will benefit you most if you have already started writing your book and crave inspiration and guidance to move forward with purpose. The workshop will include "off the page exercises" to help solidify your work in character, plot, point of view, getting mired in the middle, planting the seeds for the end and more. We will critique your in-class writing in a constructive, supportive environment that will help you keep moving towards the finish line: a completed first draft!
To get the most from this workshop, you should:
be working on a book-length work of fiction
have already written at least 25 pages
Be ready to submit 5 pages of your novel and a 1 page synopsis by Dec. 15 (or if registering after that date, submit within a week of registering). The workshop leader and participants will read each submission before the Getaway.
*Limited to just 10 participants.*
The 2015 program filled. View photos from the Getaway and sign up for our email list to find out about future writing retreats in the US and abroad.
"This workshop helped me grow as a writer, teacher and person. I would encourage anyone needing inspiration to attend whether they consider themselves a writer or not."
~ Jean, Participant in Michelle Cameron's novel workshop
Biography

Michelle Cameron's debut historical novel, The Fruit of Her Hands: the story of Shira of Ashkenaz, was published by Simon & Schuster's Pocket Books in September 2009. Publisher's Weekly praised the novel's "powerful immediacy" and Library Journal its "rich details." Michelle's novel in verse, In the Shadow of the Globe, was published by Lit Pot Press in late 2003. It received excellent critical reviews, was named the Shakespeare Theatre of New Jersey's 2003-4 Winter Book Selection, and was dramatically performed in several venues, including the Stella Adler School of the Arts and the Winter Poetry & Prose Getaway. Michelle is also Co-Director of The Writers Circle, which offers creative writing workshops for children and adults. To read some of her work, visit www.michelle-cameron.com.