Note from the Director: This workshop was offered in 2016. Learn more about this year's workshops.
Creative Nonfiction Workshop
Writing workshop in New Jersey
January 15-18, 2016
Led by Amanda Morris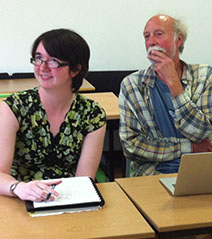 Creative nonfiction, which includes memoir, personal essay, travel and food writing and narrative journalism, does not need to be earth-shattering to be compelling; it just needs to be well written. During this supportive workshop, we will have the opportunity to observe, imagine and recreate as we explore strategies for generating new writing. We will work on exercises designed to tap into our memories, experiences and ideas, practice new storytelling techniques and learn how fictional tools help the creative nonfiction writer. As we share our developing stories, we will discuss how to expand them into publishable pieces.
*Limited to just 10 participants.* 
"Amanda Morris is an excellent teacher in that she gives individual attention and zero's in on what would help you the most. She packs a lot of information into each class and challenges her students while encouraging them at the same time. This is my second year in her workshop and I feel she advanced my writing."
~ Susan, Creative Nonfiction Participant, Newtown, PA
Biography

Amanda Morris, Ph.D., is a writer, scholar, adventurer and traveler who has lived in Pennsylvania and Alabama and is working on visiting all 50 states (she's currently achieved 41). She teaches writing and rhetoric at Kutztown University of Pennsylvania, loves teaching students creative nonfiction and Indigenous Rhetorics, and recently earned tenure and promotion to Associate Professor. Her public writing can be found at Teaching Tolerance, Bitch Flicks, Feministing, Noodle, and Garden Rant. Her academic writing can be found in Rhetoric Review, Epiphany, WSQ, Journal of American Culture, South Atlantic Review, The Literary Encyclopedia, and in the upcoming Standing Up, Speaking Out: Stand-Up Comedy and the Rhetoric of Social Change (April 2016). In her pre-academic life, Amanda spent a decade as a freelance journalist with extensive and varied publication experience, and another decade as a media buyer for various advertising agencies. Amanda spends her free time cooking, fishing, gardening and dreaming up new writing projects to tackle. Fun fact: Amanda finished her doctorate in four years, defending her dissertation on her 40th birthday, thus proving that you are never too old to go back to school. Amanda's professional home on the web has writing tips, writing prompts, and more information about her: amandamorrisphd.com. Read her essay, "I Will Not Apologize," published on Feministing.