Creative Nonfiction Workshop
Writing workshop in New Jersey
January 15-18, 2016
Led by Judy Copeland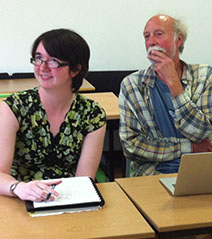 Creative nonfiction has been called "the music of what happened" (Blake Morrison) and "the hum of perpetual noticing" (Cynthia Ozick). It starts with writing many small moments—a childhood memory, a dream, an image from the TV news, a funny remark overheard, even a stubbed toe. In this workshop, we'll do exercises to evoke moments that might become stories. We'll practice strategies that draw readers in. As we share material generated in class, we'll look for narrative potential and implicit themes and discuss ways of turning these pieces into larger works such as memoirs, humor essays, travel stories, or contemplative essays.
*Limited to just 10 participants.*
The 2015 program filled. View photos from the Getaway and sign up for our email list to find out about future writing retreats in the US and abroad.
"Thanks for a great weekend. My essay evolved into something wonderful. I couldn't have done it without my workshop. I'll be back."
~ Margaret, Creative Nonfiction Participant
Biography

Judy Copeland is a California attorney who left the law to backpack around Oceania, Asia and Africa, staying with families she met along the way. Her travel stories have appeared most recently in Best American Travel Writing 2013, Alaska Quarterly Review and Legal Studies Forum, and have been shortlisted in the Pushcart anthology. She received an MFA in creative nonfiction from the University of Iowa and is an associate professor of writing at Stockton College. Read Judy's essay "The Music of the Storm," originally published in Water~Stone Review.