Creative Writing Sampler Workshop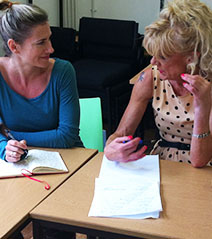 Last year's information below. 2018 registration will open 8/15/17. Sign up for our email list.
Writing workshop in New Jersey
January 13-16, 2017
Led by Renée Ashley, Anndee Hochman and Judith Lindbergh
If you are eager to explore three different genres under the tutelage of award-winning writers and teachers, here's your chance. Over the long weekend, you will engage with key elements of each genre, practice techniques that will turn your writing into a sensory experience and develop and refine your own style. Stimulating prompts will provide springboards for writing, sharing and discussion. Whether you're seasoned or haven't put pen to paper in far too long, this workshop will energize your writing without Hemingway's blood and bandages. The Sampler will offer:
*Workshop size is limited.*
Frequently Asked Question
Q: Do I have to be experienced in all three genres to take the Creative Writing Sampler?
A: Not at all. This workshop is for anyone who wants to explore three different genres and get some practice in each one. The workshop is designed to accommodate beginners as well as experienced writers. If you have more questions, see our full list of FAQs.
"Seriously, this may have been the best weekend of my life. I'm more of a memoir writer, but the Creative Writing Sampler so turned me on to poetry and fiction that I think I now want to dedicate myself to more advanced study of one of those. WHEN I come back to another Getaway, I might take something different only because this sampler workshop did such a great job."
~ Lynn, Creative Writing Sampler Participant, Newburgh, NY
Biographies

Renée Ashley is the author of six collections of poetry: Salt (Brittingham Prize in Poetry, University of Wisconsin Press), The Various Reasons of Light, The Revisionist's Dream, Basic Heart (X.J. Kennedy Prize in Poetry, Texas Review Press), Because I Am the Shore I Want to Be the Sea (Subito Book Prize) and The View from the Body. She has also published two chapbooks, The Museum of Lost Wings (Hill-Stead Poetry Prize) and The Verbs of Desiring (New American Press Chapbook Award) and a novel, Someplace Like This. She teaches in the low-residency MFA in Creative Writing at Fairleigh Dickinson University and does freelance editing; she's received fellowships from the New Jersey State Council on the Arts and the National Endowment for the Arts. Her website is reneeashleyatwork.com.

Anndee Hochman writes feature articles, profiles and essays about education, health and the wide, quirky spectrum of family and community life, including issues of adoption, foster care, reproductive technology, same-sex couples and intentional community. In addition to her weekly column, "The Parent Trip," in the Philadelphia Inquirer, her work has appeared in O, the Oprah Magazine, Health, Working Mother, Marie Claire and online in Literary Mama. She is the author of Anatomies: A Novella and Stories (Picador 2000) and Everyday Acts & Small Subversions: Women Reinventing Family, Community and Home (The Eighth Mountain Press, 1994). For the past 20 years, Anndee has taught writing to children, teens and adults in a variety of settings, including schools, senior centers and a small fishing village on Mexico's Pacific coast. Her website is anndeehochman.com. Read Anndee's piece, "Face to Face: Loss and Homecoming at the 25th Reunion," originally published in The Philadelphia Inquirer.

Judith Lindbergh's debut novel, The Thrall's Tale, about three women in the first Viking Age settlement in Greenland, was a Booksense (IndieBound) Pick, a Borders Original Voices Selection and praised by Pulitzer Prize winners Geraldine Brooks and Robert Olen Butler. Her work has appeared in numerous publications including Archaeology Magazine, Tiferet, Scandinavian Review, The World & I, Other Voices and, most recently, Up Here: The North at the Center of the World from University of Washington Press. She contributed to the Smithsonian Institution's exhibition Vikings: The Norse Atlantic Saga and was an expert commentator on the History Channel's documentary series MANKIND: The Story of All of Us. Judith is the Founder and Director of The Writers Circle where she teaches writers of all ages the joys and challenges of creative writing. To read some of her work, visit judithlindbergh.com or her blog.