Creative Writing Sampler Workshop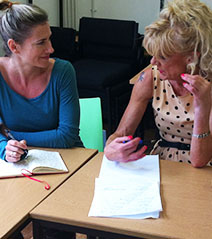 Writing workshop in New Jersey
January 12-15, 2018
Led by Mimi Schwartz, Roberta Clipper and Laura McCullough
Filled. Sign up for the Wait List.
If you are eager to explore three different genres under the tutelage of award-winning writers and teachers, here's your chance. Over the long weekend, you will engage with key elements of each genre, practice techniques that will turn your writing into a sensory experience and develop and refine your own style. Stimulating prompts will provide springboards for writing, sharing and discussion. Whether you're seasoned or haven't put pen to paper in far too long, this workshop will energize your writing without Hemingway's blood and bandages. The Sampler will offer:
*Workshop size is limited.*
Frequently Asked Question
Q: Do I have to be experienced in all three genres to take the Creative Writing Sampler?
A: Not at all. This workshop is for anyone who wants to explore three different genres and get some practice in each one. The workshop is designed to accommodate beginners as well as experienced writers. If you have more questions, see our full list of FAQs.
"Seriously, this may have been the best weekend of my life. I'm more of a memoir writer, but the Creative Writing Sampler so turned me on to poetry and fiction that I think I now want to dedicate myself to more advanced study of one of those. WHEN I come back to another Getaway, I might take something different only because this sampler workshop did such a great job."
~ Lynn, Creative Writing Sampler Participant, Newburgh, NY
Biographies

Mimi Schwartz is the author of seven books, her latest, When History Is Personal, will be out in March, 2018 (University of Nebraska Press). Other recent books include Good Neighbors, Bad Times – Echoes of My Father's German Village (winner of a Foreword Magazine Award for Memoir in 2008, and the New Hampshire Outstanding Literary Nonfiction Award, 2008); Thoughts from a Queen-Sized Bed (a JCC book club pick for ten best nonfiction, 2002) and Writing True, the Art and Craft of Creative Nonfiction, in its second edition and used by undergraduate and MFA programs nationwide (written with Sondra Perl). Mimi's essays have appeared in The Missouri Review, Agni, Creative Nonfiction, Fourth Genre, Calyx, The New York Times, Tikkun, The Philadelphia Inquirer Magazine, Florida Review, Brevity, The Writer's Chronicle, The Writer, among others. Seven have been Notables in Best American Essays. She's been a MacDowell Fellow, a Geraldine R. Dodge Fellow and is Professor Emerita at Stockton University. For more information and to read some of her work, go to www.mimischwartz.net.

Roberta Clipper has published two novels-in-stories under the name Robbie Clipper Sethi, The Bride Wore Red (Picador, 1997) and Fifty-Fifty (Silicon Press, 2003), as well as short stories in The Atlantic Monthly, Mademoiselle, the Philadelphia Inquirer and a number of literary magazines and anthologies. Her fiction has won a National Endowment for the Arts award and two fellowships from the New Jersey State Council on the Arts. Robbie teaches fiction, poetry, expository writing and literature at Rider University in Lawrenceville, NJ and on a Fulbright-Nehru Fellowship spent a "monsoon semester" (August-December 2009) teaching creative writing at the International Institute of Information Technology in Hyderabad, India. She is proud to have had a story accepted in Challenges for the Delusional II. To read some of her work, visit robbieclippersethi.com.

Laura McCullough's essays, memoirs, stories and poetry have appeared in places such as The Southern Review, The Georgia Review, The American Poetry Review, Guernica, Pank, Gulf Coast, The Writer's Chronicle, Best American Poetry and others. Her manuscript The Wild Night Dress was selected by Billy Collins as a winner of the Miller Williams Poetry Prize and will be published in 2017. She is author of eleven books including Panic, which won the Kinereth Genseler Award. Her fellowships and scholarships include Bread Loaf Writers Conference, Sewanee Writers Conference, the Nebraska Summer Writers Conference, the NJ State Arts Council and more. She teaches full time at Brookdale Community College in NJ and is on the faculty of the Sierra Nevada low-res MFA. She is founding editor of Mead: the Magazine of Literature and Libations. Visit her website: www.lauramccullough.org.