Creative Writing Sampler Workshop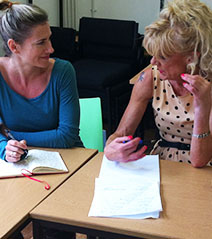 Writing workshop in New Jersey
January 15-18, 2016
Led by Judith Lindbergh, Mimi Schwartz and BJ Ward
If you are eager to explore three different genres under the tutelage of award-winning writers and teachers, here's your chance. Over the long weekend, you will engage with key elements of each genre, practice techniques that will turn your writing into a sensory experience and develop and refine your own style. Stimulating prompts will provide springboards for writing, sharing and discussion. Whether you're seasoned or haven't put pen to paper in far too long, this workshop will energize your writing without Hemingway's blood and bandages. The Sampler will offer:
*Workshop size is limited.*
Frequently Asked Question
Q: Do I have to be experienced in all three genres to take the Creative Writing Sampler?
A: Not at all. This workshop is for anyone who wants to explore three different genres and get some practice in each one. The workshop is designed to accommodate beginners as well as experienced writers. If you have more questions, see our full list of FAQs.
"Seriously, this may have been the best weekend of my life. I'm more of a memoir writer, but the Creative Writing Sampler so turned me on to poetry and fiction that I think I now want to dedicate myself to more advanced study of one of those. WHEN I come back to another Getaway, I might take something different only because this sampler workshop did such a great job."
~ Lynn, Creative Writing Sampler Participant, Newburgh, NY
Biographies

Judith Lindbergh's debut novel, The Thrall's Tale, about three women in the first Viking Age settlement in Greenland, was a Booksense (IndieBound) Pick, a Borders Original Voices Selection and praised by Pulitzer Prize winners Geraldine Brooks and Robert Olen Butler. Her work has appeared in numerous publications including Archaeology Magazine, Tiferet, Scandinavian Review, The World & I, Other Voices and more. She also contributed to the Smithsonian Institution's exhibition Vikings: The Norse Atlantic Saga and was an expert commentator on the History Channel's documentary series MANKIND: The Story of All of Us. Judith is the Founder and Director of The Writers Circle where she teaches writers of all ages the joy and challenge of creative writing. To read some of her work, visit judithlindbergh.com or her blog.

Mimi Schwartz, a veteran teacher and writer for over 35 years, has published five books including Good Neighbors, Bad Times – Echoes of My Father's German Village (University of Nebraska Press), now out in paperback and on Kindle. Other recent books include Thoughts from a Queen-Sized Bed and Writing True, the Art and Craft of Creative Nonfiction (with Sondra Perl), used in over 250 undergraduate and MFA programs nationwide, which is now out in its second edition. Her short work has appeared in Best American Essays, Creative Nonfiction, Fourth Genre, The New York Times, The Philadelphia Inquirer Magazine, The Writer's Chronicle and The Writer, among others. She is Professor Emerita at Richard Stockton College in New Jersey and teaches at writer conferences, libraries and teacher institutes across this country and abroad. Read an excerpt of Mimi's writing or visit mimischwartz.net.

BJ Ward is the author of Jackleg Opera: Collected Poems 1990-2012, forthcoming in September 2013, as part of the IO Poetry Series (North Atlantic Books). His other books are Gravedigger's Birthday, 17 Love Poems with No Despair and Landing in New Jersey with Soft Hands. His poems have been featured on Poetry Daily, NPR's "The Writer's Almanac" and New Jersey Network's "State of the Arts," as well as in publications such as American Poetry Review, Poetry, TriQuarterly andPainted Bride Quarterly. He is the recipient of a Pushcart Prize and two Distinguished Artist Fellowships from the NJ State Council on the Arts. He co-directs the Creative Writing degree program at Warren County Community College. To read some of Ward's work visit the Poetry Foundation or Getaway Reads. His website is bj-ward.com.