Finishing Your Novel Workshop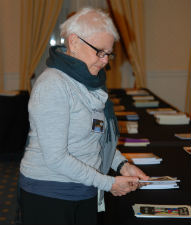 Writing workshop in New Jersey
January 15-18, 2016
Led by Carol Plum-Ucci
Stuck? This workshop is for writers who are mired in a long prose piece and need a spark to advance. If you're serious about publishing your novel and want to overcome the changing dynamics of the industry, this is the workshop for you. The motivating workshop leader will coach you with exercises, analyses and thoughtful encouragement. She will discuss steps for finishing your manuscript and the process of finding an agent. Be ready to submit up to 20 pages of your novel plus a 2-page synopsis by Dec. 15 (or if registering after that date, submit within a week of registering). The workshop leader and participants will read each manuscript before the Getaway. There is a $200 surcharge for this workshop.
*Limited to just 4 participants.*
The 2015 program filled. View photos from the Getaway and sign up for our email list to find out about future writing retreats in the US and abroad.
"I was a first-time attendee at the Getaway and thoroughly enjoyed it. Carol Plum-Ucci was an inspirational workshop leader, setting us all afire with new ideas, techniques and optimism. The other attendees were so supportive, spirited and welcoming. You have set an amazing tone of collaboration, growth and personal fulfillment that every attendee and instructor seem to embrace and spread. The facility was excellent, the food quite tasty and the evening sessions were lively and fun. Well done! I'll be back!"
~ Mike, Finishing Your Novel Participant, New York, NY
Biography

Carol Plum-Ucci is the author of six Harcourt novels and a memoir, Homeschooling Abbey: Your Basic Mom Tries Home Education & Tells All (2008). Her latest novel, Fire Will Fall (2010), is the sequel to the 9/11 inspired Streams of Babel (2008). The Body of Christopher Creed (2000) was named a Michael L. Printz Award Honor Book by the American Library Association. Carol has twice been a finalist in the Edgar Allan Poe Awards and was a Book One New Jersey author in 2004. Her website is carolplumucci.com.