Note from the Director: This workshop was offered in 2017. Learn more about this year's workshops.
Finishing Your Novel Workshop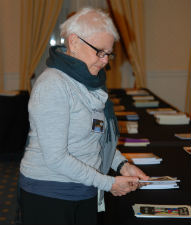 Writing workshop in New Jersey
January 13-16, 2017
Led by Carol Plum-Ucci
Stuck? This workshop is for writers who are mired in a long prose piece and need a spark to advance. If you're serious about publishing your novel and want to overcome the changing dynamics of the industry, this is the workshop for you. The motivating workshop leader will coach you with exercises, analyses and thoughtful encouragement. She will discuss steps for finishing your manuscript and the process of finding an agent. Be ready to submit up to 20 pages (no more than 7,000 words, double-spaced with 1″ margins and a 12 point font) of your novel plus a 2-page synopsis by Dec. 20. If you register after this date, no problem–just submit your work within a week of registering. The workshop leader and participants will read each submission before the Getaway. There is a $200 surcharge for this workshop.
*Limited to just 4 participants.* 
"Not only was Carol extremely insightful into the needs of my manuscript, but she was an excellent facilitator as group members critiqued each other's work and would respectfully get us back on track. She was personable, realistic and able to read the room. I left the workshop with clear direction and specific goals."
~ Amy, Finishing Your Novel Participant, Downers Grove, IL
Biography

Carol Plum-Ucci has numerous awards from the American Library Association for her novels, including the Michael L. Printz Honor Book Award for The Body of Christopher Creed. What Happened to Lani Garver was Amazon Editor's #1 Choice in Young Adult Literature, and both Creed and The Night My Sister Went Missing were Edgar Allan Poe finalists. Streams of Babel and Fire Will Fall were named Junior Library Guild Premiere Selections, and Creed was twice optioned by DreamWorks. She is a former Book One New Jersey author. Carol taught college for 10 years and now serves writers only in small groups. "I take on serious writers who are aiming for the commercial market. My classes are not easy to get into; nonetheless we are always looking for that great, raw talent," she says. Her website is carolplumucci.com.