The Heart and Craft of Memoir Workshop
2018 registration will open 9/6/17. Sign up for our email list.
Writing workshop in New Jersey
January 12-15, 2018
Led by Anndee Hochman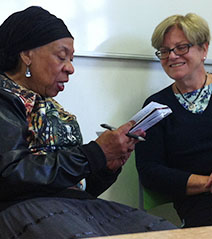 Transform significant life experiences and important moments into well-crafted literary prose. We'll open our senses, dig into memory and use the tools of imagery, detail, tone, pacing and structure to write vivid, meaningful memoirs. Exquisite excerpts by a range of writers will give us inspiration and a close look at the "clockworks"—that is, what makes a strong memoir tick. In exploring the "heart" of memoir, we'll also touch on questions of authenticity, memory, truth-telling and the ethics of writing about living people.
*Limited to just 10 participants.*
"Anndee's memoir workshop exceeded my expectations. She taught us strategies for writing about our real life experiences and helped me unlock forgotten memories. I was able to go beyond writing what I already knew."
~ Sarah, Memoir Participant
Biography

Anndee Hochman writes feature articles, profiles and essays about education, health and the wide, quirky spectrum of family and community life, including issues of adoption, foster care, reproductive technology, same-sex couples and intentional community. In addition to her weekly column, "The Parent Trip," in the Philadelphia Inquirer, her work has appeared in O, the Oprah Magazine, Health, Working Mother, Marie Claire and online in Literary Mama. She is the author of Anatomies: A Novella and Stories (Picador 2000) and Everyday Acts & Small Subversions: Women Reinventing Family, Community and Home (The Eighth Mountain Press, 1994). For the past 20 years, Anndee has taught writing to children, teens and adults in a variety of settings, including schools, senior centers and a small fishing village on Mexico's Pacific coast. Her website is www.anndeehochman.com.
Read Anndee's piece, "Face to Face: Loss and Homecoming at the 25th Reunion," originally published in The Philadelphia Inquirer.