Note from the Director: This workshop has been offered each year from 1998-2017, but unfortunately will not be offered in 2018. Learn more about this year's workshops.
Song Writing Workshop
Writing workshop in New Jersey
January 13-16, 2017
Led by Nancy Falkow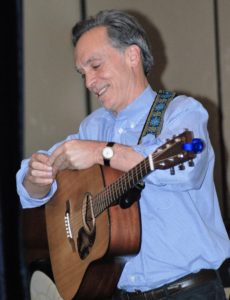 Celebrating its 20th year at the Getaway! Join Ireland-based singer-songwriter Nancy Falkow for a fun, intensive song writing workshop. Each year this workshop is composed of a combination of novice songwriters and experienced performers who create an inviting, positive and comfortable atmosphere for performance and critique. Using creative and challenging exercises, we will write new songs or enhance existing material. We will practice:
Developing chord progressions and melodies
Crafting lyrics and phrasing
Mastering the conventions of song structure
We will leave the weekend energized with exciting ways to transfer our vision from the page to our ears. Beginners and lyricists (non-musicians) are welcome.
*Limited to just 10 participants.*
"This workshop was truly an amazing experience! Our instructor provided a wonderfully supportive environment that was fun while being productive. Her feedback was insightful and honest, and her overall vibe was just spot-on."
~ Jeff, Song Writing Participant
Biography

Nancy Falkow is an Ireland-based (formerly Philadelphia) singer-songwriter. She has shared stages, taxis, dressing rooms and guitars with nationally touring musicians from Donovan to Richie Havens. Songs of hers have appeared in TV and in film. She has been collaborating with musicians and writing in genres from pop to rock to folk for many years, but was always a teacher and a poet first, and draws from that well of experience with every song and workshop. With three successful albums under her belt, after the birth of her daughter, she began writing for what is her most successful album—"Under the Stars"—which she released under the project name Sunflow. This is her 20th year at the Getaway and she always looks forward to a trip home to run the Song Writing Workshop, to see familiar faces and meet new ones. Her website is nancyfalkow.com and you can listen to her entire discography at nancyfalkow.bandcamp.com. Read Nancy's piece, "Notes on Eavesdropping," on one method for writing songs.