Note from the Director: This workshop was offered in 2017. Learn more about this year's workshops.
Visions and Revision Workshop: Fiction & Creative Nonfiction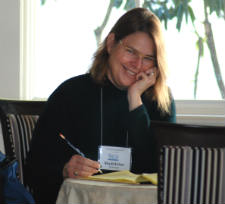 Writing workshop in New Jersey
January 13-16, 2017
Led by Roberta Clipper
What will keep an editor reading your writing? How can you make it stand out? This workshop will help you focus and polish your prose, whether creative nonfiction or fiction. Feedback and encouragement will help make your writing stronger, and guided revising will ensure it rings true to your vision. Be ready to submit 2-3 pages (no more than 1,000 words, double-spaced with 1″ margins and a 12 point font) on which you need feedback by Dec. 15 (or if registering after that date, submit within a week of registering). This workshop will focus intensely on revising and you will benefit more by submitting a work in progress rather than a piece that is nearly complete. The workshop leader and participants will read each submission before the Getaway.
*Limited to just 10 participants.*
"I wanted to thank you for all of the insights and encouragement I received from attending last January. Attached is a preview of the results. The book will be available to the public later this week."
~ Bill, Visions and Revision Participant
Biography

Roberta Clipper has published two novels-in-stories under the name Robbie Clipper Sethi, The Bride Wore Red (Picador, 1997) and Fifty-Fifty (Silicon Press, 2003), as well as short stories in The Atlantic Monthly, Mademoiselle, the Philadelphia Inquirer and a number of literary magazines and anthologies. Her fiction has won a National Endowment for the Arts award and two fellowships from the New Jersey State Council on the Arts. Robbie teaches fiction, poetry, expository writing and literature at Rider University in Lawrenceville, NJ and on a Fulbright-Nehru Fellowship spent a "monsoon semester" (August-December 2009) teaching creative writing at the International Institute of Information Technology in Hyderabad, India. To read some of her work, visit www.robbieclippersethi.com.