Writing and Publishing Your Fiction Workshop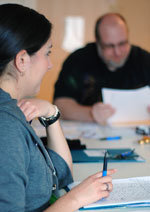 Writing workshop in New Jersey
January 15-18, 2016
Led by Richard Weems
Writing and Publishing Your Fiction
This workshop will get you playing with the fundamentals of fiction: plot, structure, voice, point of view, character development and dialogue. On both Saturday and Sunday morning, you will receive inspiring exercises which you can use as starting points for new stories or a weekend-long project. In the afternoons you will receive generous and helpful feedback. Monday morning will be full of insider information and advice on where and how to submit your work for publication. This is the ideal workshop to take if you want to write short stories. "Re-PETERs" welcome: prompts, readings and craft discussion will differ each year offered.
*Limited to just 10 participants.*
"I just wanted to thank you again for a great workshop. You presented a lot of food for thought and numerous sources to explore how 'published' authors have perfected their craft. I thought we had an interesting mix of writing styles and a group who not only offered helpful suggestions but did so with respect and encouragement. I think you set the tone for that type of interaction to occur. I hope I will be able to attend another workshop with you in the future."
~ Steve, Writing and Publishing Your Fiction Participant
Biography

Richard K. Weems is the author of Anything He Wants, winner of the Spire Fiction Award and finalist for the Eric Hoffer Book Award, as well as the Cheap Stories eBook series, available at Amazon, Barnes & Noble, Smashwords and iBooks. He is the founder and director of the BCA Summer Writing Program and former Director of Creative Writing for the NJ Governor's School of the Arts. His short story publications include New World Writing, North American Review, The Gettysburg Review, Other Voices, The Mississippi Review, Pif Magazine, Barcelona Review and The Beloit Fiction Journal. You can check out some of his work at www.weemsnet.net.