Writing for the Children's Market Workshop
Writing workshop in New Jersey
January 15-18, 2016
Led by Pamela Curtis Swallow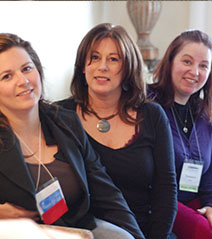 Writing for the Children's Market
This workshop will explore the different genres of juvenile and young adult literature and focus on the key elements of writing—creating character, plot, setting, dialogue, point of view, conflict and the use of detail. You will practice methods for keeping the reader interested and work on your revision technique. Exercises and prompts will provide springboards for discussion and feedback. We will conclude the weekend with a discussion of how the publishing world has changed and submission strategies. Works in progress welcome.
*Limited to just 10 participants.* This workshop is filled. View our full list of writing workshops or sign up for the wait list.

"As a first time attendee, I found the Winter Getaway to be welcoming, inspiring, and challenging. I've come away energized. What a great way to spend a cold weekend in January!"
~ Dee, Writing for the Children's Market Participant
Biography

Pamela Curtis Swallow's first book was published in 1986. She's been writing ever since, and for a wide reading audience—elementary, middle grade and young adult, and adult. Her fiction and nonfiction books include: Groundhog Gets A Say (Putnam/Scholastic); It Only Looks Easy (Roaring Brook Press/Scholastic); the Melvil and Dewey Series (Libraries Unlimited), which includes an activity guide entitled Melvil and Dewey Teach Literacy; A Writer's Notebook (Scholastic); Wading through Peanut Butter (Scholastic); No Promises (Putnam/Scholastic) and Leave It to Christy (Putnam/Scholastic). Pam recently completed The Remarkable Life and Career of Ellen Swallow Richards, Pioneer in Science and Technology. She's currently writing a second biography about Ellen Swallow Richards, for younger readers. In addition to writing, Pam has spent many years as a teacher and school librarian. Her website is: www.pamelacurtisswallow.com.