About the Winter Poetry and Prose Getaway
Winter Poetry & Prose Getaway
January 16-19, 2015
Stockton Seaview Hotel
Galloway, NJ (Atlantic City area)
This writers' conference offers challenging and supportive workshops, insightful feedback and an encouraging community. Here are some fast facts: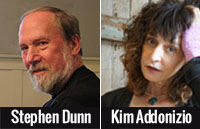 Special Guests: Stephen Dunn and Kim Addonizio
16 poetry and writing workshops
Small workshop sizes: most limited to just 10 participants
200 writers from across the country participate each year
Presented by The Richard Stockton College of New Jersey and Murphy Writing of Stockton College
Celebrating its 22nd year–founded in 1994 by Peter Murphy
See which workshops we're offering this year.
"I have been to 11 Getaways and 17 of the poems I drafted there have been published! If you ever get discouraged and wonder why you are looking up obscure quotations or packing up boxes of postcards, I can tell you that your goofy prompts/ variations/ challenges for the delusional really work. 17 poems I would not have written if not for you, Peter. Thank you for helping me become a poet."
~ Pat, Elkton, MD
Success Stories
The Getaway has had a big impact on some writers' lives. Read some of our success stories.
History and Background
Peter Murphy created the Winter Poetry & Prose Getaway in 1994 based on his belief that when writers leave behind distractions to gather in an encouraging community, they will make breakthroughs in their art. Celebrating its 22nd year, the Getaway has become one of the oldest and largest writers' conferences in the winter season, attracting more than 200 writers from across the country.
The inspiration behind the conference was unique. In the early '80s, when Peter returned home from his first residency at an artist colony, he failed to find enough solitude to continue creating exciting new work. Peter decided to put together his own "mini Yaddo" retreat and rented a hotel room for a weekend. A new poem that surprised and pleased him came to life, so he checked into a different hotel the following month, and the month after that. When Peter told other writers about his hotel habit, he often heard them say, "I wish I could go with you."
A strong believer in community, Peter decided to host a Getaway for these writers and chose the three-day holiday weekend honoring Dr. Martin Luther King, Jr., which was the slow season in the shore town of Cape May. The Winter Getaway is now presented in partnership with The Richard Stockton College of New Jersey and takes place at Stockton Seaview Hotel at the Jersey Shore near Atlantic City.
Valued Partners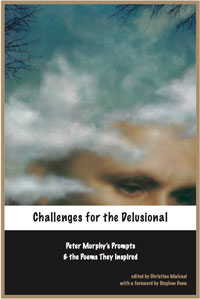 The Winter Getaway is presented by:
In 2012, Jane Street Press published Challenges for the Delusional, a collection of Peter's writing prompts from the Winter Getaway and the poems they inspired.
Our programs fill quickly. Register today so you're not disappointed.