Testimonials
2014 Testimonials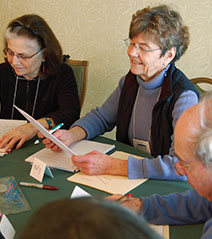 "As a first-time attendee, I was very impressed. The hotel was beautiful and everything was so well organized. My workshop leader, Amanda Morris, was full of energy, interesting, encouraging and inspiring. I would come back just for her, but I very much enjoyed the whole experience!"
~ Susan, Creative Nonfiction Participant, Newtown, PA
"I was a first-time attendee at the Getaway and thoroughly enjoyed it. Carol Plum-Ucci was an inspirational workshop leader, setting us all afire with new ideas, techniques and optimism. The other attendees were so supportive, spirited and welcoming. You have set an amazing tone of collaboration, growth and personal fulfillment that every attendee and instructor seem to embrace and spread. The facility was excellent, the food quite tasty and the evening sessions were lively and fun. Well done! I'll be back!"
~ Mike, Finishing Your Novel Participant, New York, NY
"For a first-timer, it was an extraordinary experience. The workshops were unbelievably helpful and the entire atmosphere of Seaview was very conducive for writing. I definitely will be attending again!"
~  Tyler, Advanced Poetry Writing Participant, Chalfont, PA
"Seriously, this may have been the best weekend of my life. I'm more of a memoir writer, but the Creative Writing Sampler so turned me on to poetry and fiction that I think I now want to dedicate myself to more advanced study of one of those. WHEN I come back to another Getaway, I might take something different only because this sampler workshop did such a great job."
~ Lynn, Creative Writing Sampler Participant, Newburgh, NY
"The weekend was truly transformative for me. I was welcomed into circles of conversation with such uniquely diverse writers–an environment that allowed me to stretch and explore new ideas and ask questions. The prompts were superb and allowed me to dive right in. Thank you!"
~  Queenie, The Heart and Craft of Memoir Participant, Ventnor, NJ
"Many participants of the have been attending for years and within a day I realized why: the community is so warm and friendly. Peter is a dream host. The poetry workshops are challenging and rigorous yet lack intimidation. It's a blend that's magic."
~  Caits, Advanced Poetry Writing Participant, New York, NY
"The seminar wasn't just good––it was OVER THE TOP GOOD. Everyone from faculty, to attendees, to Seaview staff was so accommodating and friendly. Our Instructor, Joyce McDonald, gave us guidance and encouragement. She was so easy to work with and the lessons fit exactly what we needed and how to develop feeling for our characters."
~ Jeff, Beginning Your Novel Participant, Newton, NJ
"Attending this year really reaffirmed my belief: for me participating in the Getaway it is not solely about honing craft, but also about obtaining the literary stimulation my brain demands as someone attracted to the literary arts. The Getaway is the warmest and most ideal environment to re-establish and rework the creative connections in my brain. The readings are stirring and insightful and the workshops are full of amazing discussion of craft mechanics. I leave feeling balanced, satiated and whole every time!"
~  Jin, Advanced Poetry Writing Participant, Jackson, NJ
"The Winter Getaway was wonderful, and I'm grateful for all of your hard work and attention to detail. I pray, push and persist in manifesting new poems, a children's book, blog entries and mixed-media art. I cannot, however, hold a candle to all that you do and accomplish so beautifully. I will look forward to attending one of your programs in the future."
~ Lynda, Advanced Poetry Writing Participant, Newville, PA
"As a member of the Friday Algonquin-style Prose workshop, I'd like to thank all of you for sharing your work with me and for critiquing mine. I was amazed at the amount of talent in the room and at the conference in general. Thank you, Richard, for hosting the Algonquin workshop. Thank you, Peter, for everything. I sincerely hope that I get to see all your works in print and I can say 'I knew them when…' See you next year."
~ Brian, Algonquin-style Prose Workshop Participant, Mercerville, NJ
"Thank you for such totally awesome Getaway! I've never been to such a warm and welcoming writers' gathering. Every time you were at the mic you made each and every attendee feel personally welcome… a real gift. It was such a fun, and HELPFUL, weekend. Lois Marie Harrod gave a fabulous poetry manuscript workshop. She was so generous to each of us and so astute in her comments. It was a really valuable experience."
~ Donna, Poetry Manuscript Workshop Participant, Bernardsville, NJ
"There was so much to appreciate about the Getaway weekend and I heard nothing but positive comments from both faculty and attendees. Trust, bonds and affection grew with each workshop session, and I loved watching confidence and enthusiasm build. Seeing old friends and meeting new ones during meals, assorted gatherings and readings was lovely. The Stockton Seaview facility and staff were perfect––the rooms great, the cleanliness of the hotel excellent, the food delicious, the dining room/kitchen staff gracious and thoughtful. How wonderful it is that the Stockton Seaview is now the Winter Getaway's home."
~ Pamela Swallow, Getaway Faculty, Writing for the Children's Market
"I cannot help but be inspired when I'm at the Getaway. Yet what's more remarkable is how cranked up my creative juices are days after I've returned home as I digest all the ways my mind was fed."
~  Flower, Poetry Writing Participant, Key West, FL
Browse the 2014 pictures.
2013 Testimonials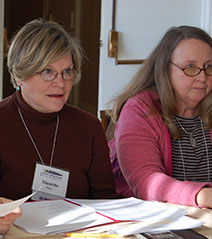 "This was possibly the best weekend I've had since my wedding. I learned more, wrote more and most importantly wrote *better* in two and a half days than I had at other retreats and conferences that were over a week long."
~ Carolyne, Pittsburgh, PA
"We want to thank Tom Peele for his help with our book and let him know about our success. Not in a Tuscan Villa has made the Amazon Bestseller list several times for Travel Writing and has gotten great reviews, including one from Rick Mellerup in The Sandpaper, where he called it one of the best things he's read in his career as a journalist. Thanks again."
~ Nancy, Fort Myers, FL
"The Getaway offers a priceless opportunity to write and spend quality time with lots of warm, smart, funny people who are as obsessed with writing as I am!"
~ Sarah, Belmar, NJ
"It was great to spend so much time around other writers, make connections and get work done. My workshop really energized me and made me excited to go home and get to work on my book."
~ Travis, Philadelphia, PA
"I wanted to thank you again for putting together what was a fantastically creative weekend. I wrote more in three days than in the entire previous year."
~ John, Long Valley, NJ
"I just wanted to say that it was really fabulous and wonderful. I was a first-timer and it's really true—everyone was welcoming, the writing and feedback were both challenging and fun and the caliber of work was amazing. Thanks for a great event! And please put me on any mailing lists for Murphy Writing and the Getaway—I definitely would like to stay updated."
~ Liz, Plainview, NY
"The workshops were supportive and so much fun. I am thrilled with the work I began at the Getaway. My writing and my commitment have been re-energized and I can't wait to continue writing. The hotel was a delight—the staff was so helpful and the facility was beautiful."
~ Linda, Cedar Grove, NJ
"Thank you for all your deft behind-the-scenes (and before-the-scenes) organizing. Someone commented that she'd been reluctant to come because other writing workshops she'd attended were hopelessly disorganized…but she did come, and she was impressed with how smoothly and expertly the Getaway runs. I agree."
~ Anndee Hochman, Getaway Faculty, The Heart and Craft of Memoir
"Thank you for creating this safe and creative space for writers. The Getaway is my writing new year, a time when I can reconnect to my goals and aspirations and set writing resolutions. It's also the most supportive writing community I've ever encountered and has helped me as a student and as a teacher. I have always been treated with so much respect, even as an aspiring writer, and it is your example, Peter, that fosters this kind of environment. We are all so fortunate that you have created this conference and that you continue to share it."
~ Emari DiGiorgio, Getaway Faculty, Poetry Tutor
"My first Getaway changed my life, my writing and my expression of myself. This one gave me more confidence and valuable learning experiences. I'll be publishing my first book soon. Thank you!"
~ Rodney, Yardville, NJ
"Peter – I'm in awe of the community you've fostered here. The Winter Getaway has kick-started my writing for the new year. I'm already looking forward to next year!"
~ Helen, Haddon Heights, NJ
"The Getaway was beautifully organized and the teachers were inspiring and knowledgeable, There was a sense of fun, and everyone was so friendly."
~ Sandy, Cincinnati, OH
Browse the 2013 pictures.
2012 Testimonials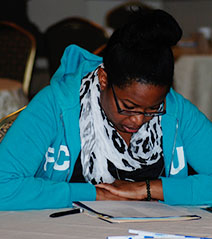 "As a first time attendee, I found the Winter Getaway to be welcoming, inspiring and challenging. I've come away energized. What a great way to spend a cold weekend in January!"
~ Dee, Clifton, NJ
"Thank you for a great workshop. I had only written one piece, a short story, prior to coming. It was my first writing workshop and I am now inspired to write more. I like the way you created an atmosphere engendering positive feedback."
~ Julienne, Montclair, NJ
"The Winter Getaway was exactly what I needed to recharge as a writer and start 2012 off on the right foot. From the supportive community to the Seaview atmosphere, I left feeling inspired. Now I can't wait to get back to work on the many projects I've lined up for myself. I only wish the Getaway could last all year!"
~ Cate, Pittsburgh, PA
"The Winter Getaway was an extraordinary experience. I came for the first time and wrote things that startled me. I enjoyed opportunities to workshop my new work and make new friends. Seaview did a great job and the staff couldn't have been more helpful. Peter and Amanda and their 'team' really went all out for us. It was a wonderful weekend and I intend to go every year from now on."
~ Penny, Mays Landing, NJ
"I wanted to thank you for all of the insights and encouragement I received from attending last January. Attached is a preview of the results. The book will be available to the public later this week."
~ Bill, Margate, NJ
"My husband is so invigorated after your incredible weekend retreat. This is just what he needed personally and for his book. Peter, you are a consummate facilitator."
~ Participant's wife, Margate, NJ
"It's always a little nerve-racking to go back to a place that was over-the-top wonderful the first time. It's doubly wonderful to discover that it really is as special as you thought."
~ Devon, Newark, DE
"What a great opportunity this is to escape into the world of writing for a long weekend, to work with award-winning poets and writers, to meet and network with other fellow writers and to just have a ripping good time. Kudos to Peter, Stockton and everyone involved for another excellent conference!"
~ Bruce, Cherry Hill, NJ
"Indeed, the Getaway is not your typical writers' conference. It's a gaggle, a posse, a stanza of poets. The one with the Pulitzer sits next to the one who last composed couplets in grade school. Though known for his writing exercises, Peter Murphy, himself, is the best writing prompt. How else could such great writers and friends come together so wonderfully?"
~ Shaun, Brooklyn, NY
"How can you not adore a man who for 19 years has hosted the most amazing writer's retreat in the country, bringing together the young and old, the famous and the fledgling, the poets and novelists and memoir writers and journalists and songwriters in this amazing amalgam of creativity, hard work and play? From opening corny jokes to his challenges for the delusional to the final gospel Conga line in honor of Dr. King, Peter Murphy is an alchemist, and we are the grateful beneficiaries of magic."
~ Tammy, Collingswood, NJ
Browse the 2012 pictures.
Testimonials from Previous Years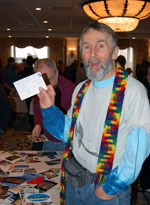 "This conference is a gift. It permits a writer to take risks without concern for impressing or competing. It gave me the space to imagine and experiment. This is a community that is generous and encouraging while also being honest. A great relief."
~ Amy, Blue Bell, PA
"I have been to 11 Getaways and 17 of the poems I drafted there have been published! If you ever get discouraged and wonder why you are looking up obscure quotations or packing up boxes of postcards, I can tell you that your goofy prompts/ variations/ challenges for the delusional really work. 17 poems I would not have written if not for you, Peter. Thank you for helping me become a poet."
~ Pat, Elkton, MD
"I came from out of the country, and was made to feel at home immediately. Thank You!"
~ Frank, London, Ontario
"I had a better, more enriching experience at the retreat than in the book-writing group I attended for over a year. Our workshop leader was at the top of the scale, keeping the workshop intensive, genuine, supportive and inspiring."
~ Juliet, Philadelphia, PA
"The workshops were intense, joyous and useful, the food was tasty and abundant, the dancing was blissful and I'm going home with four new poems and an equal number of new friends. I have been to dozens of conferences in the past several years and this is now one of my favorite events."
~ Devon, Newark, DE
"The workshop leaders are talented and compassionate, pushing you to new levels. The atmosphere is charged with creativity and appreciation for the work of others. I travel from Chicago to attend and have not been disappointed."
~ Donna, Willowbrook, IL
"I love the three night time-frame. It allows for deep work and play. The workshops were the right length, and the panels and evening events were lovely. This was my first, but not my last time! Thank you."
~ Laura, Montclair, NJ
"The Getaway has inspired and empowered me! I am writing!"
~ Victor, Linwood, NJ
"I had such a great time and left feeling exhausted and rejuvenated, with my luggage full of new poems, books and a renewed excitement. I've heard so many great things about the Getaway, but no praise equaled the experience."
~ Stacey, Fresno, CA