Murphy Writing of Stockton University Presents



This entry is part of Getaway Reads, an e-mail series curated by Jamie Walters that features the writing of the Winter Poetry & Prose Getaway faculty.
Emergings
by Stephen Dunn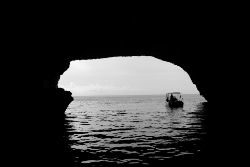 Let's say men and women begin
as slime, and some of us crawl
out of the sea, and fall into circumstance
fraught with danger, and cannot survive,
but do, slithering into a cave
where the stories evolve, first as pictures
on the walls, then as grunts that turn
into something like words. For years,
though, biology reigns. Our bodies go
this way or that. Our culinary wisdom
is to eat more than get eaten.
Our good sense is to follow a guess.
Let's say sometimes the accidental
is the beginning of possibility.
We discover that when we're most afraid,
when catastrophe looms, opportunities abound.
We learn the power of slings and stones.
And the best storyteller emerges
from all of those wishing to explain.
Let's say he knows we need someone
to admire, and says a hero is a person
who blunders into an open cave,
and that it takes courage to blunder.
Let's say he also says something about
the beauty of slime. His story lives
for a while because of its memorable turns,
its strange moral fervor, while the others'—
merely accurate and true—disappear.
© Stephen Dunn. Published in The New Yorker on July 4, 2016.
Unnatural
by Stephen Dunn
I'm sure Nature has disapproved of me
for years, as if it had overheard
one of my silent screeds against it,
and my insistence that only the artificial
has a real shot at becoming more
than we started with, designed,
revised, something completely itself.
If it could speak, Nature might say
it contains lilies, the strange beauty
of swamps, the architectural art
of spiders, the many et ceteras
that make the world the world.
Nothing man-made can compete,
Nature might say. Oh Nature
has been known to go on and on.
And if it wanted to push things further,
it could cite our sleek perfection
of bombs and instruments of torture,
our nature so human we hide
behind words that disguise and justify.
But that's as generous as I want to be
in giving Nature its say. I've seen it
randomly play its violence card—
natural, no-motive crimes
with hail and rain and vicious winds,
taking out, say, trailer courts and
playing fields and homes for the elderly.
So I want to be heard and overheard,
this time for real, out loud, in fact
right in Nature's face, to say I prefer
the artifice in what's called artificial,
the often concealed skill involved,
without which we'd have no accurate
view of ourselves, or of lilies in a pond.
© Stephen Dunn. Published in The New Yorker on March 14, 2016.
+ + + + + + + + + +
Stephen at the 2017 Winter Getaway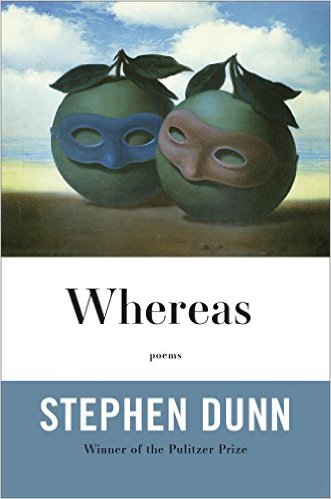 We're proud to say Getaway participants will be able to buy Stephen's newest collection of poems, Whereas: Poems, and get it signed a full month before it goes on sale to the public. Stephen Dunn and Sharon Olds will be reading on Sunday January 15, 2017, with a book sale and book signing to follow.
+ + + + + + + + + +
The Winter Poetry & Prose Getaway and Murphy Writing are programs of Stockton University.
+ + + + + + + + + +
Want to study with Stephen Dunn? Stephen will lead three special Advanced Poetry Writing sessions at the 2017 Winter Poetry & Prose Getaway.
+ + + + + + + + + +
Stephen Dunn is the author of 19 volumes of poetry including his latest chapbook, Keeper of Limits: The Mrs. Cavendish Poems, published in 2015, by Sarabande. His previous books include Different Hours, which was awarded the 2001 Pulitzer Prize for Poetry, Lines of Defense (2014) and Here and Now (2011), all from W.W. Norton. Stephen has received awards and fellowships from American Academy of Arts and Letters, The Guggenheim Foundation, the National Endowment for the Arts, New Jersey State Council on the Arts, Poetry Magazine, Poetry Northwest, Mid-American Review and many others. A new and expanded edition of his book of essays, Walking Light, was published in 2001. He is Distinguished Professor Emeritus of Creative Writing at Stockton University, but spends most of his time in Frostburg, Maryland, with his wife, the writer Barbara Hurd. You can watch this video of Stephen giving a reading or read a few of his poems.
+ + + + + + + + + +
Our Participants Say It Best
"A poem that I wrote at the Getaway a mere 2 weeks ago has just been accepted by Gargoyle, a Virginia journal. I only submitted it on Sunday and the editor, Richard Peabody, took it right away. I listened very carefully to Stephen Dunn's suggestions during the workshop, and spent time working on the revision. I've had several other Getaway poems published, but this is the soonest after a Getaway! I can't tell you how much this good news has uplifted my spirits!"
~ Shirley, Advanced Poetry Writing Participant, Baltimore, MD
Our Philosophy
Escape the distractions of your busy life. Advance your craft and energize your writing with a challenging and supportive Writing Getaway. Join us at one of our upcoming writing retreats and take advantage of plentiful writing time, insightful feedback, good meals and good company. Get Away to Write.
+ + + + + + + + + +