Registration & Pricing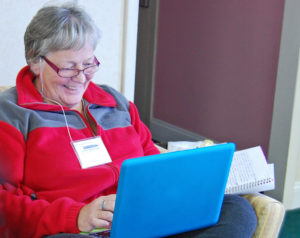 The Winter Poetry & Prose Getaway does not have an application process; everyone is welcome. We believe that every writer, whether they are just getting started or already have publications or an MFA, can improve their craft with rigorous instruction and a supportive community. Experienced writers may wish to register for an advanced workshop or try a new genre.
"I just wanted to say that it was really fabulous and wonderful. I was a first-timer and it's really true—everyone was welcoming, the writing and feedback were both challenging and fun and the caliber of work was amazing. Thanks for a great event! And please put me on any mailing lists for Murphy Writing and the Getaway—I definitely would like to stay updated."
~ Liz, Plainview, NY
Last year's information below. 2019 registration will open 9/1/18. Sign up for our email list.
Tuition
$495 tuition includes:
Workshop of your choice (each offers 15 hours of craft discussion, writing prompts, writing time and feedback)
Friday evening reception
Meals: Saturday lunch, Sunday lunch and dinner
Afternoon and evening activities
Please note: Tuition does not include the cost of other meals or room packages (details below) or the price of workshop surcharges for Finishing Your Novel or the Poetry Manuscript Workshop.

Ways to save:
"re-PETER" Discount ($25 off) if you've attended any of our other programs
"Early Bard" Discount ($25 off) if you pay in full on or before Nov. 20
Stockton Discount ($50 off) for students, alumni, faculty, adjuncts or staff with a Z-number
Room Packages (Optional)
Room packages include 3 nights accommodation, 3 breakfasts, 1 additional lunch (Monday), use of fitness center and pool, most gratuities, resort fee, state sales and hotel taxes. Please note: Your Tuition includes additional meals which will bring your total to 7 meals: 3 breakfasts, 3 lunches, 1 dinner.
Single Room Package — $452
Double Room Package — $265* per person — A double room can be a great way to save money. Let us know if you'd like us to match you with a roommate.
Shared Room Package (With nonparticipating guest) — $637**
* You can specify a roommate or we can match you with one. ** Includes everything
listed above for you and a guest.
Tutorials and Add-ons (Optional)
To get even more out of your Getaway experience, you can add-on the following tutorials and special workshops:
Tutorial in Prose  —  $100
Tutorial in Poetry  —  $75
Algonquin-style Workshops  —  $100
Advanced Poetry Writing with Stephen Dunn  —  $100 per session
Advanced Poetry Writing with Gregory Pardlo  —  $100 per session
The Fine Print
Early Bard Discount ($25 off) if you pay in full on or before Nov. 20
"re-PETER" Discount ($25 off) if you've attended any of our other programs
Stockton Discount ($50 off) for students, alumni, faculty, adjuncts or staff with a Z-number

Cannot be combined with "re-PETER" Discount

Change Fee ($25) will be charged to switch your workshop, room package, tutorial(s), add-ons and/or payment method after Dec. 10
Cancellation policy:

On or before Nov. 20 — 100% refund minus a $50 processing fee
Nov. 21-Dec. 10 — 50% of total refunded
Dec. 11-31 — 50% credit for future Getaway
Jan. 1 or after — Sorry, no refund will be issued
How to Register
2019 registration will open 9/1/18. Sign up for our email list.

Register online on our secure site to pay by credit card.
Note: If you have trouble registering online or don't receive a confirmation email within 24 hours, please call us at 609-626-3594 or email info@wintergetaway.com.
Or register by mail if you prefer to pay by check or purchase order.
FAQ: Extending your Getaway
The hotel will offer a special reduced rate for Getaway participants for several nights before and after the event. To take advantage:
Register for the Getaway now and add-on your extra nights later.
During the first week of January, we will email registered participants with details on how to book these optional extra nights. The discounted rate for the extra nights for will be $95/night plus taxes and fees (single or double occupancy, no meals included) and will enable you to stay in the same room throughout your whole visit.
Scholarships
A number of scholarships are being offered for the 2019 Getaway. Learn more about applying for a scholarship to the Getaway.
Gift Certificates
Writers, tell your loved ones that's what you want for Christmas…or Hanukkah…or your birthday…or just because. Gift certificates are available in any denomination and can be sent electronically so you receive them in plenty of time for the special occasion. See details on Getaway gift certificates.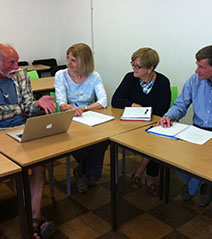 Wait List Information
To be added to the wait list, fill out our wait list form. In the event of a cancellation, we will notify the person at the top of the list. Please Note: The same Fine Print and Cancellation policy applies to all registrants whether they are on the wait list or not.
Group Discount
We welcome writers' and student groups and offer a discount on tuition when three or more members attend the Getaway. Read the full details on group discounts and register your group.
Earn Professional Development Credit
Many educators are sponsored or reimbursed by their school districts and colleges for this multicultural, professional development activity. Teachers will earn 18 hours of professional development credit. Purchase orders are welcome.
Registration Option for South Jersey Teachers via SRI & ETTC
Many South Jersey teachers are able to have their districts pay when they register with ETTC hours. See if you qualify to register using ETTC hours.