Workshops and Tutorials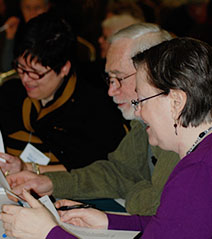 Each Getaway workshop will meet for 15 hours and will offer craft discussion, writing prompts, writing time, feedback, motivation and inspiration. By spending the entire weekend in one workshop, participants will venture deeper into their writing, making more progress than they thought possible.
Join us at the Jersey Shore during the holiday weekend honoring Dr. Martin Luther King, Jr. to write a few poems, start your memoir, work on your novel or simply to nurture your inner artist.
Choose from 16 workshops in poetry, fiction, nonfiction, memoir and more.
View Poetry Workshops
View Writing Workshops
Tutorials and Add-ons
Tutorials and add-ons can enrich your Getaway experience.
Learn more about Tutorials and Add-ons.
"This was possibly the best weekend I've had since my wedding. I learned more, wrote more and most importantly wrote *better* in two and a half days than I had at other retreats and conferences that were over a week long."
~ Carolyne, Pittsburgh, PA
Workshops are starting to fill. Register today so you're not disappointed.