Poetry Workshops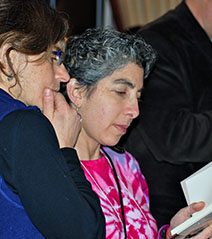 Each Getaway poetry workshop meets for 15 hours and offers craft discussion, writing prompts, writing time, feedback, motivation and inspiration. By spending the entire weekend in one workshop, participants venture deeper into their writing, making more progress than they thought possible.
Most of our poetry workshops are limited to just 10 participants per section.
Registration update – 12/2/16 – Workshops are starting to fill. As of 9 a.m. today, everything below has one or more seats available unless it is listed as filled. Register today to secure your place.
Poetry Workshops
Additional Writing Workshops
Tutorials and Add-ons
Tutorials and add-ons can enrich your Getaway experience. Learn more about:
*Interested in a workshop that is filled? View our Wait List Information.
"In the ten years I have been attending the Getaway, I have grown in both confidence and competence as a poet. This wouldn't have happened without encouragement to take risks coupled with support. Thank you." ~ Deborah, Egg Harbor City, NJ