Advanced Poetry Writing with Stephen Dunn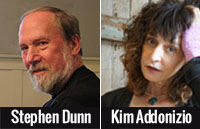 The poetry writing workshops are at the heart of the Getaway. Experienced poets are invited to work with our Special Guests, Stephen Dunn and Kim Addonizio.
The Dunn/Addonizio sessions are part of the Advanced Poetry Workshop, which is comprised of three periods of craft discussion/writing prompts and three feedback sessions. If you choose to add on a workshop with Stephen, you will work with him during one of the three feedback sessions.
If you opt to work with one of our Special Guests during the workshop feedback sessions, you may bring a poem in progress (30 line maximum) or the day's assignment to be critiqued. Enrollment is on a first-come, first-served basis and is limited to one of these intensive sessions with each Special Guest. There is a $100 surcharge for each of these add-ons which is limited to 10 participants.
Learn more about the Advanced Poetry Workshop.
"In the ten years I have been attending the Getaway, I have grown in both confidence and competence as a poet. This wouldn't have happened without encouragement to take risks coupled with support. Thank you." ~ Deborah, Egg Harbor City, NJ
Biography

Stephen Dunn's seventeenth volume of poetry, Falling Backwards into the World, was released by Jane Street Press at the 2012 Winter Poetry & Prose Getaway. His previous books include Different Hours, which was awarded the 2001 Pulitzer Prize for Poetry, and Here and Now (2011), both from W.W. Norton. Stephen has received awards and fellowships from American Academy of Arts and Letters, The Guggenheim Foundation, the National Endowment for the Arts, Poetry Magazine, NJ State Council on the Arts, Poetry Northwest, Mid-American Review and many others. A new and expanded edition of his book of essays, Walking Light, was published in 2001. He is Distinguished Professor Emeritus of Creative Writing at Richard Stockton College of New Jersey, but spends most of his time in Frostburg, Maryland, with his wife, the writer Barbara Hurd. You can read or listen to some of his poems here.