Writing Workshops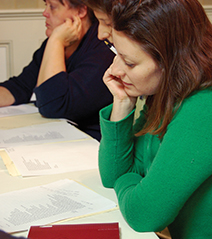 January 12-15, 2018 – Celebrating 25 years!
Each Getaway writing workshop will meet for 15 hours and will offer craft discussion, writing prompts, writing time, feedback, motivation and inspiration. By spending the entire weekend in one workshop, participants will venture deeper into their writing, making more progress than they thought possible.
Most of our writing workshops are limited to just 10 participants.
Update — 1/5/18 — The workshops below have spots available unless they are listed as Filled. Register today to secure your place.
Fiction Workshops
Nonfiction and Memoir Workshops
Additional Workshop Options
*Interested in a workshop that is filled? Sign up for the Wait List.
Tutorials and Add-ons
Tutorials and add-ons can enrich your Getaway experience. Learn more about:
"The weekend was truly transformative for me. I was welcomed into circles of conversation with such uniquely diverse writers–an environment that allowed me to stretch and explore new ideas and ask questions. The prompts were superb and allowed me to dive right in. Thank you!"
~ Queenie, The Heart and Craft of Memoir Participant, Ventnor, NJ