What Matters is Not What Happened: Advanced Memoir Workshop
Writing workshop in New Jersey
January 15-18, 2016
Led by Barbara Hurd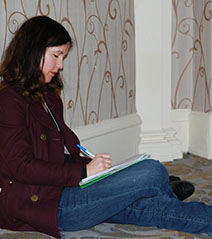 Using Vivian Gornick's famous line about "what matters," we'll investigate the best way to tell your story in this advanced memoir workshop. With your own memoir-in-progress as a springboard, you will explore the importance of seeing your first-person narrator as a character in your story, experiment with writing exercises and discuss your new work. Be ready to submit 2-3 pages on which you need feedback by Dec. 20. If you register after this date, no problem–just submit your work within a week of registering. The workshop leader and participants will read each submission before the Getaway.
*Limited to just 10 participants.*
"As a first-time attendee, I was very impressed. The hotel was beautiful and everything was so well organized. My workshop leader, Amanda Morris, was full of energy, interesting, encouraging and inspiring. I would come back just for her, but I very much enjoyed the whole experience!"
~ Susan, Newtown, PA
Biography

Barbara Hurd is the author of Walking the Wrack Line: On Tidal Shifts and What Remains (2008), Entering the Stone: On Caves and Feeling Through the Dark, a Library Journal Best Natural History Book of the Year (2003), The Singer's Temple (2003), Stirring the Mud: On Swamps, Bogs, and Human Imagination, a Los Angeles Times Best Book of 2001 (2001) and Objects in this Mirror (1994). Her work has appeared in numerous journals including Best American Essays 1999, Best American Essays 2001, The Yale Review, The Georgia Review, Orion, Audubon and others. The recipient of a 2002 NEA Fellowship for Creative Nonfiction, winner of the Sierra Club's National Nature Writing Award, three Pushcart Prizes and a 2010 Maryland State Arts Council Award for Fiction, she teaches in the Stonecoast MFA program at the University of Southern Maine. Her website is www.barbarahurd.com.