What Matters is Not What Happened: Advanced Memoir Workshop
Writing workshop in New Jersey
January 16-19, 2015
Led by Amanda Morris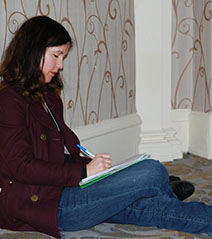 Using Vivian Gornick's famous line about "what matters," we'll investigate the best way to tell your story in this advanced memoir workshop. With your own memoir-in-progress as a springboard, you will explore the importance of seeing your first-person narrator as a character in your story, experiment with writing exercises and discuss your new work. Be ready to submit 2-3 pages on which you need feedback by Dec. 15 (or if registering after that date, submit within a week of registering). The workshop leader and participants will read each submission before the Getaway.
*Limited to just 10 participants.*
"This advanced memoir workshop was excellent. I've attended tons of writing workshops over the last couple of decades and this was the best, bar none. Fabulous. Great group, great instruction."
~ Lois, Advanced Memoir Workshop Participant
Biography

Dr. Amanda Morris is a writer, scholar, adventurer and traveler who has lived in Pennsylvania and Alabama and is working on visiting all 50 states (she's currently achieved 41). She teaches writing and rhetoric at Kutztown University of Pennsylvania, loves teaching students creative nonfiction and Indigenous Rhetorics, and recently spent three years as the University Writing Center Director. Her academic writing can be found in Rhetoric Review, Epiphany, WSQ, Journal of American Culture, South Atlantic Review, Dr. Amanda Morris and The Literary Encyclopedia. In her pre-academic life, Amanda spent a decade as a journalist with extensive and varied publication experience, and another decade as a media buyer for various advertising agencies. Amanda spends her free time cooking, fishing, gardening and dreaming up new writing projects to tackle. Fun fact: Amanda finished her doctorate in four years, defending her dissertation on her 40th birthday, thus proving that you are never too old to go back to school. Amanda's professional home on the web has writing tips, writing prompts, and more information about her: amandamorrisphd.com.