Literary Bonsai: Creative Nonfiction Short Forms Workshop
Writing workshop in New Jersey
January 12-15, 2018
Led by Barbara Hurd
Filled. Sign up for the Wait List.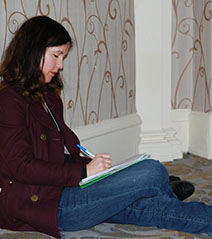 Proust kept three bonsai by his bed in Paris to remind himself of the intricate richness of the small worlds we often overlook. In this workshop on creative nonfiction short forms of 750 words or less, we will explore how the constraints of a tight focus can jolt us into new ways of observing the world, our lives and small moments.
We will:
Study contemporary models
Experiment with prompts
Practice methods of seeing "a world in a grain of sand," as Blake says
While the workshop will include some sharing and feedback, the primary focus will be on writing. The weekend will finish with an overview of the growing flash prose market. You will leave with a new admiration for miniatures and drafts of at least three new pieces.
*Limited to just 10 participants.*
"Barb Hurd's workshop was excellent. I've attended tons of writing workshops over the last couple of decades and this was the best, bar none. Fabulous. Great group, great instruction."
~ Lois, Warwick, NY
Biography

Barbara Hurd is the author of Listening to the Savage / River Notes and Half-Heard Melodies (University of Georgia Press, 2016), Tidal Rhythms (with photographer Stephen Strom, George F. Thompson Publishing, 2016), Stepping into the Same River Twice (with artist Patricia Hilton, 2013), Walking the Wrack Line: On Tidal Shifts and What Remains (2008), Entering the Stone: On Caves and Feeling Through the Dark, a Library Journal Best Natural History Book of the Year (2003), The Singer's Temple (2003), Stirring the Mud: On Swamps, Bogs, and Human Imagination, a Los Angeles Times Best Book of 2001 (2001), and Objects in this Mirror (1994). Her work has appeared in numerous journals including Bellingham Review, Prairie Schooner, Best American Essays, The Yale Review, The Georgia Review, Orion, Audubon and others. The recipient of a 2015 Guggenheim Fellowship, an NEA Fellowship for Creative Nonfiction, winner of the Sierra Club's National Nature Writing Award, four Pushcart Prizes, and five Maryland State Arts Council Awards, she teaches in the MFA in Writing Program at the Vermont College of Fine Arts. Visit her website.