Prose Critique Intensive Workshop
Writing workshop in New Jersey
January 12-15, 2018
Led by Judith Lindbergh
Filled. Sign up for the Wait List.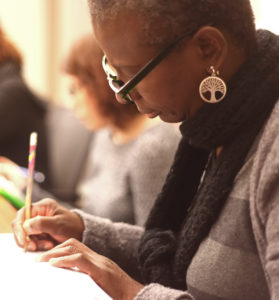 Whether you've just begun your writing journey or have plodded through revision after revision, receiving constructive feedback is essential to the creative process.
In this supportive, critique-centered workshop, you will:
Share excerpts of your writing—options include novel, memoir, creative nonfiction or short story
Receive thoughtful, practical suggestions from both your workshop leader and fellow participants to strengthen your pieces
Discuss technical and aesthetic concerns from structure to point-of-view, character development, style, pacing and more
Bring up to five double-spaced excerpts of no more than 1,000 words each. You will be encouraged to revise your work and bring new drafts to later sessions for further critique during the weekend. Leave recharged with plenty of ideas for polishing your writing and the motivation to push forward.
*Limited to just 10 participants.* 
"Any anxiety I had when I came to the Winter Getaway quickly disappeared. The conference is expertly run with beautiful accommodations, a comfortable tone for writing and sharing and a sea of talented writers."
~ Jane, Hackettstown, NJ
Biography

Judith Lindbergh's debut novel, The Thrall's Tale, about three women in the first Viking Age settlement in Greenland, was a Booksense (IndieBound) Pick, a Borders Original Voices Selection and praised by Pulitzer Prize winners Geraldine Brooks and Robert Olen Butler. Her work has appeared in numerous publications including Archaeology Magazine, Tiferet, Scandinavian Review, The World & I, Other Voices and, most recently, Up Here: The North at the Center of the World from University of Washington Press. She contributed to the Smithsonian Institution's exhibition Vikings: The Norse Atlantic Saga and was an expert commentator on the History Channel's documentary series MANKIND: The Story of All of Us. Judith is the Founder and Director of The Writers Circle where she teaches writers of all ages the joys and challenges of creative writing. To read some of her work, visit judithlindbergh.com or her blog.